Ingredients
2 cups heavy cream
6 large egg yolks
cup cane sugar
Turbinado sugar, for topping
1 Ceylon vanilla bean, split lengthwise and scraped
Preparation
Preheat oven to 300 degrees. In a heavy bottom pan over a medium-low heat, pour cream in with split vanilla bean and cook, stirring for about 15 minutes (do not boil). Remove from heat. In a bowl, using a hand held mixer, beat egg yolks about 3 minutes until a creamy yellow. Gradually pour in 1/3 cup of cane sugar and beat until sugar has dissolved (about 5 minutes).
Next, remove vanilla bean from heated cream and discard. Ladle heated cream a little at a time into egg mixture while continuosly mixing on a medium-low speed so eggs do not cook. Continue this process until all of the cream is mixed in.
In a separate bowl, pour mixture into a fine sieve to remove excess froth and bubbles. Pour into 6 small ramekins (I used ramekins and espresso demi cups) and place into a baking pan. Fill baking pan with warm water until it is about halfway up the outside of the ramekins then place into preheated oven.
Bake for 45 minutes or until set (should be set around the edges, but jiggly in the middle). Carefully remove from oven and let water cool for 20 minutes. Remove ramekins and refrigerate for 2 hours.
Right before serving, remove from refrigerator, sprinkle 2 teaspoons of turbinado sugar evenly over custard, and using a small hand held kitchen torch, scorch sugar until it melts and caramelizes to an amber brown. Top with fresh berries.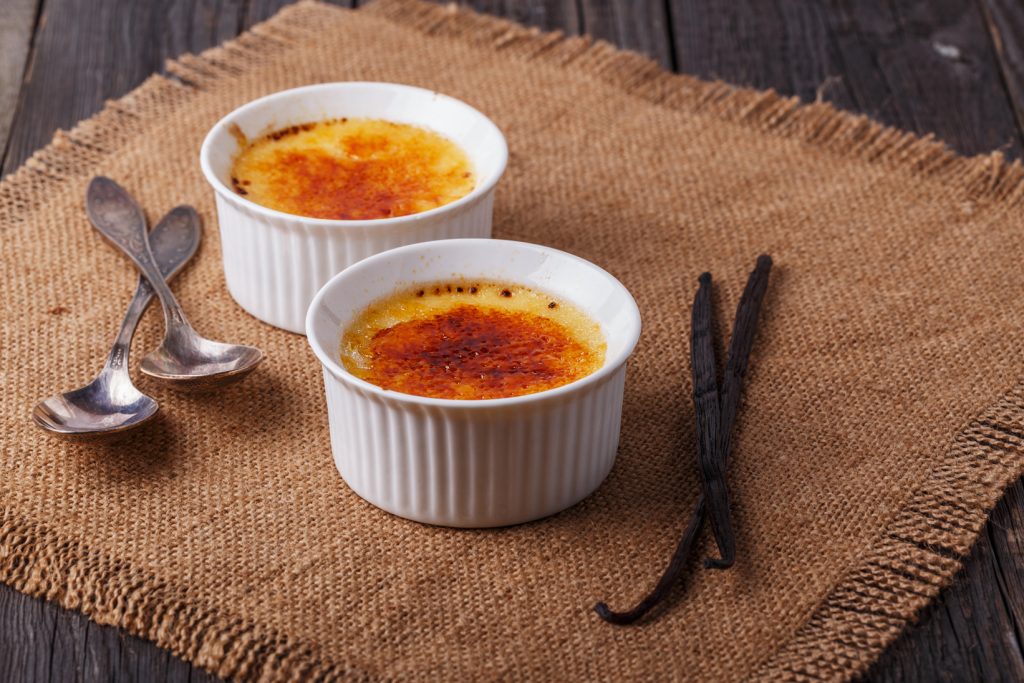 Related Products